Trucking Adjusting Services in Tennessee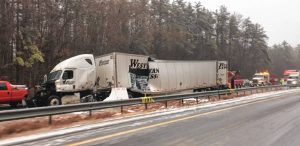 We have a team of Tennessee trucking adjusters devoted to honesty, integrity and completing superior claims investigations.
Whatever trucking assignment you have, we have experienced Tennessee semi trailer adjusters on call.
Every Tennessee trucking adjuster we employ is very specifically selected for their ability to push through all barriers to get the information insurance companies and attorneys need to either accept or deny insurance claims. Our team of 24 hour adjusters will leap tall buildings and high fences to get your claims assignment complete. Need an Tennessee semi tractor adjuster? Churchill Claims is there!
This sets Churchill apart from other Tennessee claims adjuster companies you may have been using in the past. We just won't turn in an incomplete report. We eliminate the confusion and frustration you may have encountered with other auto adjusters who just don't do a thorough job and leave you hanging with incomplete information.
We handle Tennessee trucking claims to the full conclusion of each claim.  If you have Churchill Claims on your team, you can rest assured that you are going to get the results you want.
Could you use some well qualified, dedicated, tenacious, responsive and honest Tennessee trucking adjusters?
Look no further – we are your Tennessee auto adjusters!
Call us today to get started! 877.840.6277
Metropolitan areas in Tennessee we cover:
Chattanooga, Clarksville, Knoxville, Memphis, Murfreesboro, Nashville
Tennessee Trucking Adjuster – how can we help?
You need Churchill Claims! 877.840.6277