Actual Churchill Claims Case Study
The Case of the Gangbanger Confrontation
One of our adjusters, a petite 110 lb. 5' 6" inch California blonde, cold-called a potential witness in a lower income district of Los Angeles. Ignoring the warning signs in the area, such as graffiti on the side of the house along with the barred windows and loud rap music emanating from within, she knocked at the door.
A man in his mid-20's wearing a tank top with amply tattooed arms and sporting a neat moustache, answered and beckoned her to come inside. She had just begun her statement when FIVE more muscular men of similar age and equally threatening appearance, entered the room from the back of the house and proceeded to stand in a circle around the adjuster and watched her intently as she continued with the statement. One of these men repeatedly interrupted the adjuster during the interview, demanding to know why she needed to ask certain questions and otherwise acting in a semi-threatening manner. Rather than being defensive or wilting under the potential danger, our adjuster simply carried on with the interview in a highly professional yet respectful manner. Still looking cool and in control, the interview continued for 20 tense minutes until all the pertinent facts were obtained.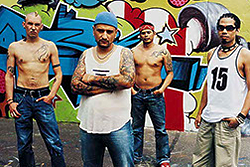 The adjuster concluded and with a courteous "Thank you, Sir" to the witness and edged her way out of the front door, not making eye contact with any of the men present. She got into her car and simultaneously locked the doors and hit the gas to get out of there as quickly as possible. The statement turned out to be vital to the investigation and led to a denial of the claim.
If you have any trouble using this form, please call us toll-free at (877) 840-6277.